BREAKTHROUGH TO NURSING AWARDS

Deadline: March 8, 2019
Theme
: "
Challenging Assumptions: Breaking Barriers, Building a Future"
The purpose of the Breakthrough to Nursing® Award program is to: encourage recruitment and retention of students in nursing schools; target non-traditional as well as traditional students; use broad-based strategies which consider ethnic diversity, gender, and age; promote transcultural awareness in nursing schools and in the community at large; encourage and promote mentorship programs.
Awards and Prizes:
State Level - Certificate and $100.00

School Level - Certificate and $100.00
Judging Criteria

Maximum points awarded: 70
1. Relevance of project to theme 0-10
2. Community impact 0-10
3. Media coverage 0-10
4. Clarity of message 0-10
5. Originality/creativity 0-10
6. Attainment of goals 0-10
7. Positive results attained 0-10
---
Powered by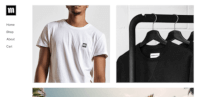 Create your own unique website with customizable templates.